It's the last Sunday of August, and with it, the first Cuéllar Festival Run. The five most eagerly-awaited days of the year for inhabitants and visitors to Cuéllar.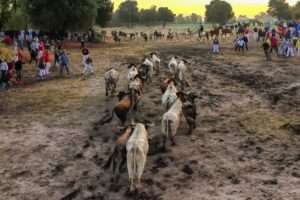 THE RELEASE
08.00 H. The corral doors open, under the astonished gaze of the herd. The first few seconds, you can already feel the tension in the dust-raising stampede, covering shouting, nerves and running bulls, curious onlookers and horseback riders accompanying the beginning of the bull run.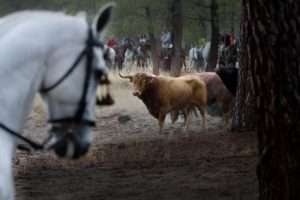 IN THE PINE FOREST
Enshrouded in early-morning mist, the horseback riders slowly accompany the bulls through the thick pine forest until reached cultivated land.
(route reserved to authorised cowboys and horseback
riders)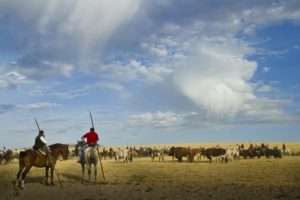 THROUGH THE FIELD
The bulls travel through stubble and fallow land until reaching the rest area. Pastries and liqueur make the wait more bearable for the audience and the horseback riders, while the bulls also eat their last few bites before entering the city.
EL EMBUDO (THE FUNNEL)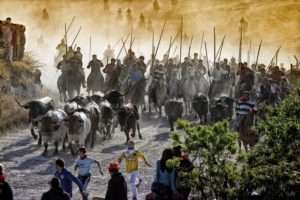 09:30 H. The tension in the old town centre is palpable, people impatiently lining the streets with the first shouts of «they're coming, they're coming!» In a huge cloud of dust, bulls and horseback riders come through the funnel, kicking off the city route, leaving the bulls alone with the runners.
CITY ROUTE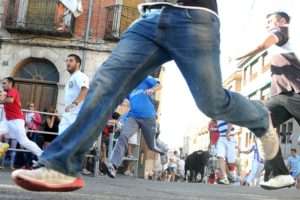 The bulls begin the 970-metre route along the city route that will lead them to the bull ring, accompanied by the most daring runners. Five minutes of nerves, tension and excitement, along calle Resina, calle Las Parras and the Avenida de los Toreros.
An ancestral ritual, where the bull is the main character, repeated over the course of five intensive days. The ending is the start of a new year for inhabitants of Cuéllar, who begin the countdown for their most representative festival again.
THE OLDEST BULL RUNS IN SPAIN
In Cuéllar, bulls have been run for over 800 years. Thus, its Bull Runs are documented as the oldest in Spain.
In 1215, don Geraldo, the bishop of Segovia, held the episcopal synod, prohibiting the clergy from participating in games with bulls.
Since then and up until today, Cuéllar's historical archives have housed a rich, varied documentation on the festival, created over the centuries.
CUÉLLAR CONQUEST!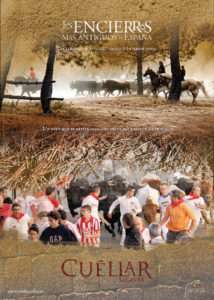 Popular tradition and festivals blend in this medieval city, with the castle and walls, churches, convents, palaces and stately homes rising above the steep, narrow streets. All accompanied by excellent cuisine made with typical products for inhabitants and visitors to enjoy.
CONTACT
Tel. Tourism Office +34 921 14 22 03 www.cuellar.es